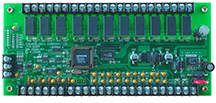 Thermalogic Master Series Temperature and Process Controls
Thermalogic's line of Master Series temperature controls are ideal for those looking for a multitude of functions in a single controller. All functions, inputs, outputs, connectors, communication options and display options are defined by the customer. Thermalogic then designs the control based upon a variety of design platforms that already exist. Functions other than temperature can be integrated such as timers, other process inputs and on-board memory, just to name a few.  By eliminating the need for a variety of discrete control devices, Master Series controls are both cost and space effective.

For 45 years, Thermalogic has been manufacturing controls for OEM and Volume Users so you can be confident that you are using proven and reliable designs. Our built to order philosophy allows users to get a control configured to their exact requirements and specifications.

A wide variety of input, output and packaging options are available to fit virtually any application where accurate and reliable control are needed at a reasonable cost.   Our factory direct model insures that you only deal with knowledgeable Sales Engineers who understand our capabilities inside and out. 
Click Here for More Information
---
Laird's Spindle Screw Pump Provides Higher Performance, Efficiency and Reliability for Liquid Cooling Systems
Laird has developed a spindle screw pump that delivers consistent and reliable performance in liquid cooling systems (LCS). Compared to centrifugal pumps, Laird's spindle screw technology can pump fluids of higher viscosity without losing flow rate, and pressure changes have little impact on pump performance.  - Read More
Graphene Nanoflake-Based Films Developed as Thermal Interface Materials
Researchers at Chalmers University of Technology in Sweden have developed a new approach to cooling electronics using graphene nanoflake-based film. - Read More
Orion Fans Develops Speed Controllers To Reduce Energy Consumption & Costs
Orion Fans has expanded its fan control product offering to include new speed control units that provide precise airflow control. The field adjustable OA11/22 dual channel phase control unit allows the user to control fan speed for single or multiple fan assemblies.  - Read More
LumaSense Introduces Ratio Pyrometer
LumaSense Technologies, Inc. has introduced the IMPAC IGAR 6 Advanced infrared thermometer. The IGAR 6 Advanced is a digital, compact pyrometer with 1-color, 2-color, and smart operating modes for non- contact temperature measurement in ranges between 100 to 2,000°C. - Read More